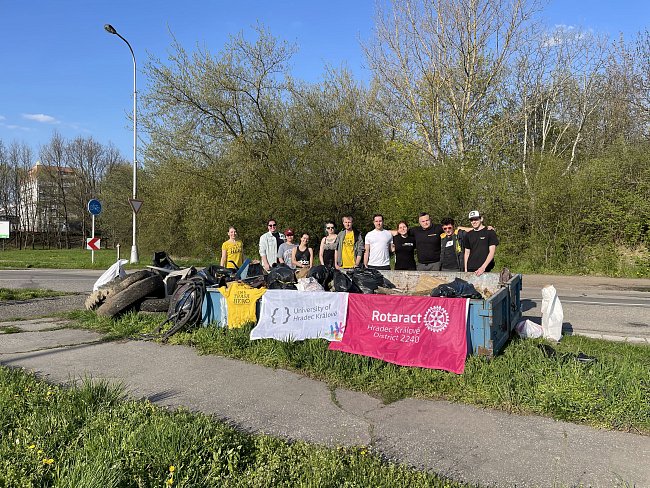 22. 4. 2023 | Hradec Králové
Datum konání
22. 4. 2023
Restoring the Beauty of Mileta Park: Earth Day Cleanup Project
On April 22, 2023, Rotaract Hradec Králové, in collaboration with Trash Hero HK and ESN HK (Erasmus Student Network Hradec Králové), organized a remarkable cleanup project in honor of Earth Day. The event took place at Mileta Park in Hradec Králové, where dedicated volunteers came together to make a positive impact on the local environment.
The project kicked off with great energy as our volunteers spent the whole afternoon diligently collecting trash from the Mileta region. Our hard work paid off, resulting in the collection of approximately 2 tons of waste. We encountered a variety of discarded items, ranging from tires and teddy bears to an abundance of plastic and beer cans. However, it was disheartening to discover the presence of syringes among the litter, highlighting the importance of such cleanup initiatives to ensure the safety and cleanliness of public spaces.
Despite the challenges posed by the amount and diversity of the waste, we displayed unwavering determination to leave Mileta Park cleaner than when we began. We filled an entire container with the collected trash, exceeding expectations and showcasing our commitment to environmental stewardship. The impact of our efforts was significant, not only in terms of physical waste removed but also in raising awareness about the importance of responsible waste management within the local community.
The success of this cleanup project was a testament to the collaborative efforts of Rotaract Hradec Králové, Trash Hero, and ESN HK. By joining forces, we demonstrated the power of unity in addressing environmental issues. Furthermore, this event was part of the Rotaract Global CleanUp Day, which served as a global initiative to celebrate Earth Day 2023. The involvement of local and international volunteers alike showcased the universality of the environmental cause and the shared responsibility we all hold in preserving our planet.
In conclusion, the Earth Day 2023 cleanup project organized by Rotaract Hradec Králové, in partnership with Trash Hero and ESN HK, was a resounding success. The dedication and hard work of the volunteers resulted in the collection of 2 tons of waste from Mileta Park, leaving the area cleaner and safer for the community. This collaborative effort exemplified the spirit of environmental stewardship and highlighted the importance of responsible waste management. With such initiatives, we can continue to work towards a cleaner and more sustainable future for all.